Welcome to Panquility!
It has been said that music is a language of universal communication, often breaking down traditional barriers to understanding and awareness. Live music is a strong attention- getting and crowd-pleasing method of increasing public relations and bolstering employee morale.
Panquility is a professional music ensemble established in 2007. We provide music for a variety of official and social occasions, and would like to suggest the use of live music at your next function.
Using live music makes your occasion special; enjoyed by everyone and remembered by all. Here is a partial list of the many different ways Panquility can be useful to you:
Weddings, Anniversaries, Reunions
Grand Openings, Restaurant Promotions
Parties, Banquets, Fund Raisers
Holiday Occasions, Graduations, and much more!
This page was last updated: Jan 2, 2016
Home
Hear Us-See Us
FAQ
Contact Us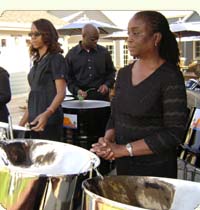 Upcoming Events
Contact Us
---
02/06/2017 - Cambell AME Church Caribbean Service (Washington DC)


05/20/2017 - 2017 Celebrate Takoma festival (Takoma Park MD) {1:00pm}


05/27/2017 - 2017 Bowie MD Memorial Day Parade (Bowie MD) {begins at the Bowie High School Annex (3021 Belair Drive) at 11AM}


07/04/2017 - 2017 Takoma Park Maryland Independence Day Celebration Parade (Takoma Park MD) {10AM-12NOON}


07/15/2017 - 2017 Baltimore/DC Caribbean Carnival parade (Baltimore MD) {10AM-5PM}


10/07/2017 - 2017 Bowie International Festival (Bowie MD)


---